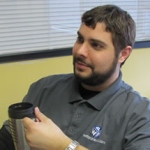 Chris Crum writes for Small Business Resources about what's new for small business. Chris was a featured writer with the iEntry Network of B2B Publications where hundreds of publications linked to his articles including the Wall Street Journal, USA Today, LA Times and the New York Times.
Instagram Invites Business to Engage with Audiences Beyond Their Followers
Image via Instagram Business
Two years ago, Facebook-owned Instagram made Story ads available to all businesses worldwide. The company is adding functionality to make them even more appealing to businesses and users alike.
Instagram recently announced that it is inviting businesses to engage with audiences "beyond their followers" by way of interactive elements in Story ads. They're kicking this off with the polling sticker feature.
"Full-screen, ephemeral and native stories are helping businesses tell bigger, faster, and stronger brand stories," the Instagram Business Team says. "And interactive elements, like polls and questions, bring people closer together by enabling direct participation in the shared expression."
According to the company, over 500 million accounts are using the Stories feature every single day already, including many of the world's biggest brands. Sixty percent of businesses on Instagram Stories use an interactive element, such as a hashtag, @mention, or poll sticker, every month.
Image via Facebook Business Blog
Instagram has had the polling sticker feature available in ads for a while on a limited, beta-testing basis. During that time, it says, advertisers have seen success from the feature. Dunkin' Donuts, for example, managed a 20 percent lower cost-per-video view, while Next Games increased app installs by 40 percent.
Any new advertising feature Instagram releases is worth paying attention to if you run a small business. The social platform still manages to grow significantly year-to-year. Take a look at the growth illustrated in the following graph:
Image via Statista
With this new ad feature, you can reach users with ads that allow customers to weigh in, whether it's to gauge interest in a new product, gamify an ad to increase engagement, or simply to create a conversation with users, even if they don't already follow you.
To utilize Instagram's interactive Story ads, just choose "Instagram Stories" as your only ad placement in the Ads Manager. Upload and edit creative, and select the "interactive poll" option.
In related news, Instagram also recently announced a new checkout feature for shopping, which enables users to buy products from within Instagram rather than having to navigate to a browser to complete the checkout process. This is not available to all businesses yet, but an application is available for businesses to express their interest, so your business may be able to utilize it in the near future.
While the Story ad update is widely available, the checkout feature is currently in a closed beta version with some well-known retailers such as Adidas, Burberry, H&M, Kylie Cosmetics, Nike, Uniqlo, and Warby Parker. Look at accounts from these companies to get an idea of how you may be able to use this new checkout process soon.
Once the feature becomes more widely available, businesses will have the ability to integrate directly or work with Shopify, BigCommerce, ChannelAdvisor, CommerceHub, and others. Payments are to be processed via a partnership with PayPal.
---
Read other business articles