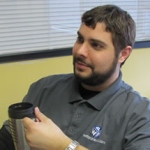 Chris Crum writes for Small Business Resources about what's new for small business. Chris was a featured writer with the iEntry Network of B2B Publications where hundreds of publications linked to his articles including the Wall Street Journal, USA Today, LA Times and the New York Times.
Facebook Launches Podcast for Business Stories
Facebook recently launched a new podcast called Three and a Half Degrees (sometimes stylized as 3.5 Degrees), which it describes as a podcast for business stories in the age of connectivity. It's hosted by the company's Vice President of Business and Marketing Partnerships, David Fischer, and features various business leaders and entrepreneurs who share their experiences and ideas.
The podcast will share common lessons learned when building new businesses in today's age of connectivity. Facebook hopes that if you tune in, you will hear stories of challenges and triumphs, get inspired by innovative entrepreneurs, and learn from the common practices, insights, and motivations of successful business leaders.
"Our ability to connect has never been stronger," the company says, explaining how it came up with the podcast's name. "Instant communication has enabled the world to become closer than we ever imagined and it's sparked a fundamental change in culture. We're no longer six degrees apart—technology has collapsed this distance, and today, we're separated by only three and a half degrees."
The inaugural episode features Blake Mycoskie, the creator of TOMS, along with Bryan and Bradford Manning, who were inspired by TOMS to create Two Blind Brothers, another charitable business. The episode looks at how both large and small businesses can be financially successful with a model that includes social good.
The second episode is called "The Power of Disruption," and features Monique & Chevalo from Charleston Gourmet Burger Co. and Chris Kempcziski from McDonald's. One of these burger businesses is an "up and coming 'SMB' (small and midsize business)" and the other is, of course, a fast food giant. The conversation provides small businesses with insights from both ends of the spectrum.
So far, the episodes of Three and a Half Degrees have been relatively short and sweet, coming in at less than 30 minutes. Still, if you're not really a podcast person or simply don't have the time to listen, you can also easily access transcripts of each episode on the show's homepage. Given that the show itself isn't especially long, these are also easy to digest.
Three and a Half Degrees was just launched in mid-January, so it's very early into the show's life. There will likely be a wealth of interesting discussions with great business minds in the months (and possibly years) to come.
In other Facebook news that should interest businesses, the company recently introduced new messaging and group features. These were announced on February 7, at the Facebook Communities Summit in Menlo Park.
Soon, U.S. businesses will be able to receive and respond to Instagram Direct messages from their Facebook Page Inbox on desktop and mobile through the Pages Manager app. Secondly, Pages will be able to participate in Facebook Groups and join discussions in a manner that represents their business or organization. Additionally, Facebook launched a pilot program that lets groups and brands collaborate, "expanding subscription groups to more partners and allowing relevant Pages to join their communities."
These new features should be available to your business very soon if they are not already.
---
Read other business articles