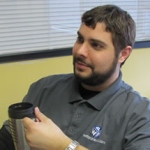 Chris Crum writes for Small Business Resources about what's new for small business. Chris was a featured writer with the iEntry Network of B2B Publications where hundreds of publications linked to his articles including the Wall Street Journal, USA Today, LA Times and the New York Times.
Zenreach Finds In-Store Shopping on the Rise
As 2021 goes on, more and more consumers are returning to in-store shopping, following a dramatic decrease throughout 2020 and the COVID-19 pandemic. Likely brought on by increased vaccinations, eased government restrictions, and a general eagerness to get back to normal, people generally seem more willing to go out and shop, even if it means having to wear a mask to do so.
Data from Zenreach, which makes marketing software for brick-and-mortar businesses, shows that in-store shopping has been on the rise in the first quarter of the year. This is according to a report from Small Business Trends, which spoke with Zenreach Vice President Megan Wintersteen.1 It says that in-store visits were up 12.5 percent compared to the same time in 2020. During the first three months of the year, visits to physical stores increased by 28.5 percent since the beginning of the year.
"The past year has been full of starts and stops, which creates uncertainty and makes it challenging for business owners to understand where the market is headed. However, the positive momentum we've seen over the past quarter reflects the pent-up consumer demand and shows that people are anxious to get back to some level of normalcy," Wintersteen told Small Business Trends. "This should signal to brick-and-mortar businesses that it's time to start considering what operations look like as we start to transition to a post-COVID world: expanding their hours, bringing back staff, and ultimately picking up their marketing efforts again to work toward bringing back their existing customer base and recruiting new customers, as well."
Among the top locations seeing the biggest increase in in-store shopping are the Dallas-Fort Worth area, the Phoenix area, the San Bernardino area, and the Orlando area.
Separately, a survey from Survey Monkey found that "after over a year of restrictions due to COViD, far more consumers would prefer to shop for their own groceries, and the majority of restaurant-goers want to dine in-person."2
Image via Survey Monkey
Image via Survey Monkey
Cybersource and PYMNTS also conducted a study finding that the more consumers have been exposed to digital shopping tools, the less patience they have for "frictions" that come along with in-store shopping. Such frictions include things like checkout lines, product shortages, etc.3
This study draws the conclusion that retailers must know their customers' identities across both online and physical channels and that, ultimately, the more choices they can provide to consumers, the better they will be positioning themselves.
It seems clear that as more people re-emerge into the world of in-store shopping, it behooves small businesses to find ways to reduce frictions from the in-store shopping process, as well as create an atmosphere of convenience through both offline and online settings. Many will be better positioned to do so than they were a year ago after being forced to make improvements to survive as the pandemic has raged on.
---
Read other business articles