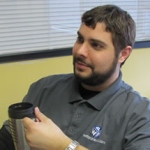 Chris Crum writes for Small Business Resources about what's new for small business. Chris was a featured writer with the iEntry Network of B2B Publications where hundreds of publications linked to his articles including the Wall Street Journal, USA Today, LA Times and the New York Times.
Adobe Launches Adobe Sign for Small Business
Image via Adobe
Adobe recently announced the launch of Adobe Sign for small business, enabling small businesses to take advantage of enterprise-level e-signature capabilities. The offering can be used with the software provider's other products, Adobe Scan and Adobe Acrobat, to help small businesses digitize contracts, invoices, customer onboarding, or anything else that requires signatures.
According to Adobe, the majority of Fortune 100 companies are already using Adobe Sign. The new offering gives small businesses the chance to take advantage of a tool which many of the country's most successful businesses are already using. Any time the little guys can take advantage of the same technologies used by the major players, it's a good thing for small business.
Adobe Document Cloud Vice President and General Manager Ashley Still commented, "Millions of small businesses already rely on Adobe to simplify document work — converting paper to digital with Adobe Scan, creating, reviewing and editing PDFs with Adobe Acrobat, and accessing the most powerful PDF services right from Microsoft Office 365. Adobe Sign for small business now completes the toolbox for small companies to fully digitize their business."
With Adobe Sign, small businesses will now be able to sign up customers directly from their site via digital signature, let customers sign and pay for services in one step, and/or send a form to hundreds of people at one time.
Along with the product announcement, Adobe released new research, finding that 75 percent of small businesses report that they still sign documents with pen and paper.
Image via Adobe
The research also found that over half of small businesses intend to completely digitize all areas of their business. Of 500 U.S. small business employees, 84 percent said it's important for them to move from paper to digital processes. At the same time, just three percent have actually begun switching. Forty-two percent of those who responded to Adobe's survey said that paper-based processes slow their productivity.
Sixty-four percent of businesses surveyed are likely to send, sign, and receive signed documents from computers or mobile devices. Sixty-one percent say they intend to send out documents for signing to multiple recipients simultaneously. Another 61 percent indicated they plan to track the status of digital contracts from anywhere. Sixty-four percent will allow customers to fill in forms online or from their mobile devices. Sixty-five percent plan to collect e-signatures with online forms. Sixty-two percent also plan to collect payments with them. Fifty-eight percent expect the digitizing to repurpose staff time away from filing and otherwise dealing with paper documents, and 53 percent say they're likely to expedite recruiting and hiring by signing HR documents from anywhere.
Image via Adobe
The company is betting that businesses will gain a great deal of productivity as a result of the new offering and, based on these stats, that doesn't seem like much of a stretch. For many businesses, paperwork can put a major strain on time and resources. For some, this will significantly alleviate that burden.
Adobe Sign for Small Business is available now through Adobe Document Cloud.
---
Read other business articles