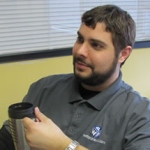 Chris Crum writes for Small Business Resources about what's new for small business. Chris was a featured writer with the iEntry Network of B2B Publications where hundreds of publications linked to his articles including the Wall Street Journal, USA Today, LA Times and the New York Times.
Twitter Gives Businesses a Social Customer Service Checklist
Image via Twitter Business Blog
There's no question that Twitter is one of the top places online for customers and businesses to interact with one another. It's a great way for a business to gauge what people are saying about their brand or products, and it's easy to jump into the public conversation that is taking place.
Twitter isn't just a place for these broader conversations, however. Many people will use it as a channel to directly connect with a business regarding customer service questions and concerns. This can happen either in public or via private messages. It may be helpful to have a Twitter account specifically dedicated to customer service, such as this one from T-Mobile:
Image via Twitter Blog
Even if you use your primary business account, not putting enough focus on social customer service can be detrimental to your brand. To give businesses some best practices around this, Twitter recently published a social customer service checklist. This includes the following items:
Customer Service Analytics
Approval Workflows
Customer Experience Auditing
Case Management and Ticketing
Customer Service Chatbots
Compliance and Information Security
Conversation History
Credibility
CRM & ID Matching
Data Access
Customer Care Feedback
Integrations & pre-built Connectors
Customer Knowledge Base
Onboarding
Routing & Prioritization
With regard to Customer Service Analytics, Twitter says a business's key metrics should include First Response Time, Average Handling Time, and Time to Resolution. If you're paying attention to these, you can improve the customer's experience along with your reputation in the customer service department.
For Approval Workflows, businesses should consider if they're able to create permission-based custom workflows for things like collaboration, content approval, and quality control.
Customer Experience Auditing means being able to view and export complete conversation histories. The company notes that this is particularly useful for businesses in financial services. For Conversation History, Twitter says it has made it easier for brands to move a customer from a tweet to a private message via its Direct Message deep links. SproutSocial illustrates what this can look like:
Image via SproutSocial
Twitter also recommends creating cases or tickets for follow-up/escalation or utilizing integrations with popular case management platforms.
Chatbots have gained a lot of prevalence on the web in recent years, and Twitter suggests integrating them, noting it has deployed features like welcome messages and quick replies.
Of course Compliance must be part of your checklist, "whether it's SOC2 accreditation or other certifications important in your industry and/or country," as the company notes.
Credibility should be a given with every aspect of your business, but when it comes to the social customer service checklist, Twitter advises working with credible vendors who have experience with your industry and asking for case studies and customer references.
For CRM and ID Matching, it suggests adding tags and notes to social profiles and utilizing them with your CRM. Twitter itself will enable businesses to match user IDs to customer records in some cases, like if the user has consented or the matching is done based on publicly available data.
When thinking about Data Access, you need to consider your relationship with those who have access to API feeds. Look at applications certified by Twitter. Evaluate which integrations and pre-built connectors are important to you and how you can access them.
"Is there a built-in knowledge base for care agents with suggested answers based on the context of the message?" Twitter asks. "What about connectors to your existing knowledge base or content management system?"
Twitter's Customer Feedback feature lets people privately share opinions with a business after service. For your checklist, Twitter recommends making sure you have the option to access the feature.
You should also evaluate your Onboarding process for product training and "social care" elements like establishing an appropriate tone of voice, the company notes.
Finally, consider how social messages are Routed and Prioritized to care agents. This may be based on keywords, influencer scores, or CRM history.
Many of Twitter's recommendations apply to other social platforms, but Twitter is a unique experience even within social media due to its very public nature. As you may know, the environment is often directly responsible for making or breaking reputations. Be sure you're getting your customer care experience right.
---
Read other business articles