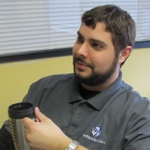 Chris Crum writes for Small Business Resources about what's new for small business. Chris was a featured writer with the iEntry Network of B2B Publications where hundreds of publications linked to his articles including the Wall Street Journal, USA Today, LA Times and the New York Times.
ADP and NAWBO (National Association of Women Business Owners) Survey Looks at Women-Owned Small Business Challenges
ADP and the National Association of Women Business Owners (NAWBO) recently released results from a survey looking at challenges faced by women-owned small businesses. The online survey asked about several topics, including paid leave and other workplace benefits, tools for growth, small business financing and needs, hiring, payroll, and accounting.
One of the key takeaways was that company size and cash flow are "hampering companies" from offering benefits to their employees. Some owners are even struggling to pay themselves.
"Helping companies grow through access to technology and better managing cash flow will increase their ability to pay themselves and improve access to benefits for their employees," the survey reported.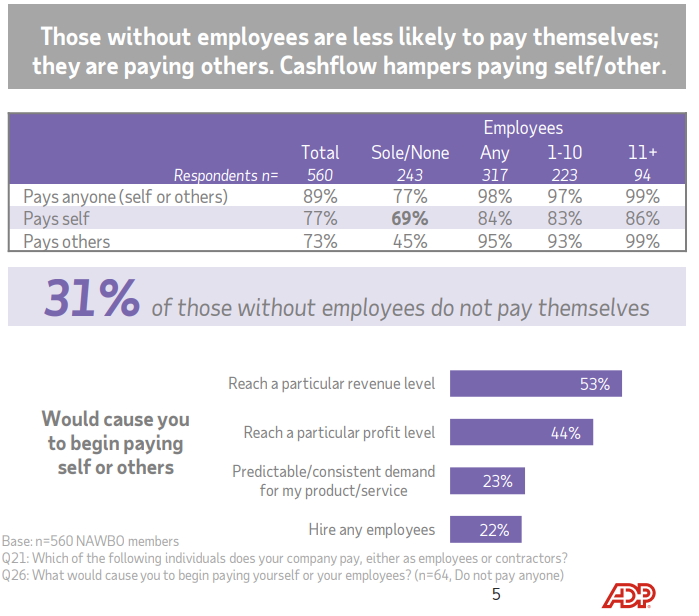 Most business owners do pay themselves, but one in five do not. One in three do not when it comes to businesses without employees. According to the report, reaching a particular revenue/profit level would encourage those who do not pay themselves or others to begin doing so.
According to those polled, 62 percent of companies that have employees offer health plans. Less than half are offering paid family leave, however. Workforce and cost are key reasons for not offering these benefits, the report says, adding that there is support (87 percent) for a federal paid family leave policy, with an opt-in option garnering the most support (48 percent).
Hiring continues to be a major challenge for women-owned businesses, just as it has been for small businesses at large.
"NAWBO members continue to struggle to hire," the report confirms. "Finding the right talent and skills are the primary drivers. Losing potential hires to competitors has become a more significant reason this year."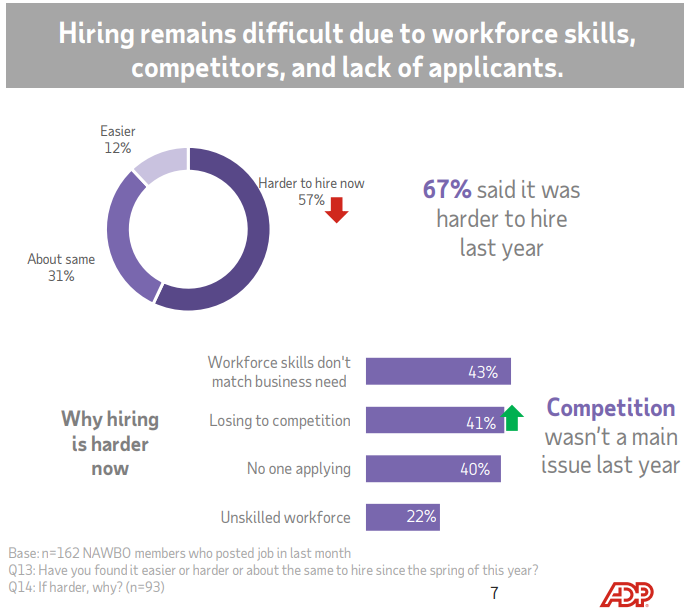 Approximately 10 percent of those polled used an SBA (Small Business Administration) loan last year. The report found that most are using their personal savings, however. Use of savings has even increased from last year, particularly among the smallest companies. Interestingly, even for companies that have been in business for many years, fewer than a third have a credit rating.
NAWBO member companies have indicated that they need financing and technology to help them grow. According to the report, tech training is also of particular interest to micro businesses, while help with hiring is a major concern for larger ones. The report finds that they are currently using or are interested in using systems that help them expand their customer base. The ones with employees expressed interest in systems that would make them more desirable to employees, such as retirement, employee recognition, engagement, and employee assistance programs.
NAWBO members say they turn to professional service providers, as well as NAWBO itself, for advice, in addition to colleagues and friends. Most seek external expertise for payroll (half use third-parties). Many are handling payroll manually or with accounting software, though as NAWBO suggests, using a third party can provide expertise, as well as free-up valuable time.
The survey was conducted among NAWBO membership companies. These are considered well-established businesses with an average age of 14 years. Eighty-three percent of them are micro businesses, and nearly half (43 percent) have zero employees. That is up from last year, when the number was 38 percent. Most of these businesses are using contractors year-round.
---
Read other business articles